ANNOUNCEMENTS
•

•

I received a note from Dave Leach '61 asking if I would get the word out to our class about the Jay Frazier Scholarship Fund. An unnamed benefactor has pledged to match any new contributions to the fund, up to $13,000, by year end.

Here is a link to the notice that he posted on the Class of '62 website where you can get some more detail.

I apologize to everyone for being delinquent in getting this information to our class; I received Dave's request about three weeks ago and some things came up and I forgot to follow through. The good news is there is still time for anyone interested in taking advantage of this very generous offer in support of a great cause.

•

Gary Casebeer needs our help in planning for a 55 year reunion in 2018. Please click on this link and take a short survey to help get things started.

•

This website was created for the McPherson High School senior class of 1963 and guests. If this is your first visit, please click here for information about joining the website. If you're already a member, please log in!
---


to the McPherson High School
Class of 1963 website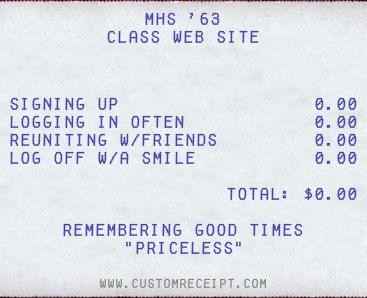 ---
The MHS 1963 Yearbook
Click on the yearbook to open a larger version in a new window or tab
---
Check out some other MHS class websites.

Class of '60
Class of '61
Class of '62
Class of '65
Class of '66

If you know of any others, let me know and I'll include them here.
---
Some other other links of interest.

---
To see your local weather, enter your zip code in the box above
---